Milwaukee Rear-End Collision Attorney
Rear-end collisions are dangerous and often lead to serious injuries.  At Mingo & Yankala, S.C., we understand the devastating impact a severe injury can have on your life.
If you were injured in a rear-end accident in Milwaukee, our Milwaukee rear-end attorneys are here to discuss your needs and help you recover the compensation you deserve. Schedule a free consultation today by filling out our contact form or calling (414) 273-7400.
Why You Need a Milwaukee Rear-End Collision Lawyer
Rear-end collisions can quickly become complicated, preventing accident victims from recovering the full settlement they need. In addition, filing a claim involves navigating a complex system, handling considerable paperwork, and negotiating with insurance adjusters while recovering from painful injuries.
Our Milwaukee accident attorneys at Mingo & Yankala, S.C. will handle your case with integrity while maximizing your recoverable damages. While you focus on your family and healing, we will use our substantial reputation as real trial attorneys to negotiate a settlement you deserve.
If you or a loved one has been injured in a rear-end collision, seek the counsel of our exceptional Milwaukee injury lawyers.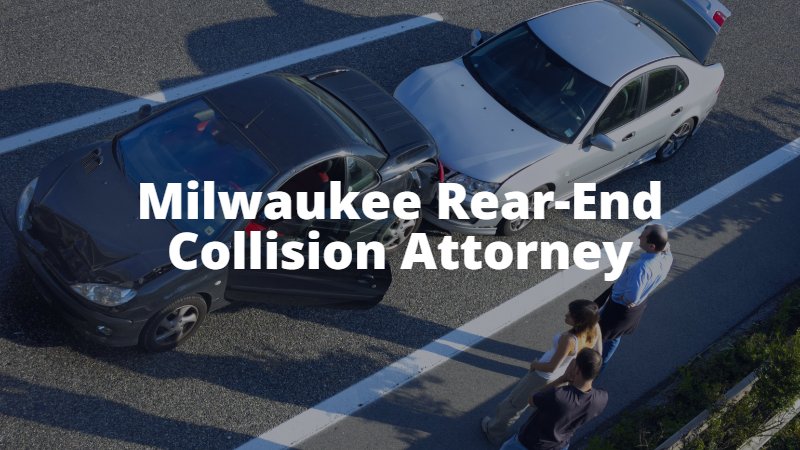 Fault in Rear-End Accidents
Rear-end collisions are among the most common type of car accidents in Milwaukee and the United States, accounting for nearly 30 percent of all accidents that result in serious injury. While they occur when a rear vehicle collides with a car in front of them, fault is not automatic in these cases.  Depending on the circumstances, either vehicle can be legally responsible for the accident. The driver of the rear vehicle may be at fault if they were following too closely, traveling at an unsafe speed, or driving distracted.  However, if the lead driver brakes suddenly and unexpectedly they may be assigned fault.  In some cases, a third vehicle may be responsible for the collision.
How Dangerous Are Rear-End Collisions in Milwaukee?
Rear-end collisions can cause substantial property and bodily harm. A study from the National Library of Medicine examined injuries sustained in rear-end crashes:
High impact collisions resulted in catastrophic injuries, like spinal cord damage and traumatic brain injuries.
Low impact crashes can cause considerable soft tissue and joint damage.
The study concluded that speed was not a major factor in rear-end collision injuries. Instead, the rate of change significantly affected the extent of bodily damage. Soft tissue damage can happen at only 2.5 miles per hour. Damage to an automobile does not occur until speeds of 8.7 miles an hour or more.
Rear-end accidents happen frequently. In the last reporting year:
It is crucial to seek medical attention immediately following a rear-end collision, even if your vehicle shows no signs of impact. Delayed injuries in the joints and soft tissues can lead to serious consequences.
Our Milwaukee Rear-End Collisions Attorneys Will Protect Your Rights
At Mingo & Yankala, S.C., we hold ourselves to a higher standard of service. Our clients deserve:
Close, personal attention to their needs throughout the process
Responsive, clear communication without legal jargon
Their case to be handled by award-winning personal injury attorneys, never junior lawyers
Convenient meetings in their home, hospital, or via video conference
We never charge a fee unless we win your case. Let our top-rated Milwaukee rear-end collision attorneys secure the compensation you need to move on with your life. Schedule a free consultation today to discuss the details of your case by clicking here or calling (414) 273-7400.