Client Reviews
What our clients are saying about us
DAVID G.

Mark and his team go into representing a client 110%. I received a settlement of over $1,000,000 dollars because I
followed their advice and trusted them to the end. As far as my wife and I are concerned there is no other firm in Wisconsin that I would recommend!
Have you been injured while riding your motorcycle as a result of a negligent driver? Drivers who behave recklessly or do not take the proper precautions to protect others around them can cause serious accidents which result in injury.
Fortunately, you may have the opportunity to hold them accountable by filing a claim with the insurance company or in civil court. Find out how much your motorcycle accident claim could be worth when you reach out to an experienced Milwaukee personal injury lawyer at Mingo & Yankala, S.C. Call us at 414-273-7400 for a free consultation.
Why Choose Us
Selecting the right Milwaukee motorcycle accident attorney can be challenging. Here are some of the reasons you should go with Mingo & Yankala, S.C.:
We are a boutique law firm that takes pride in centering our practice around our clients and their needs.
Our Milwaukee motorcycle accident attorneys understand the issues involved in motorcycle collision cases and can build a strong case on your behalf.
We do not resolve cases as quickly as possible, instead, we take the time they need to get our clients the compensation they deserve.
We take the time to get to know every client personally, as it is our goal to build lifelong relationships with our clients.
We offer free and confidential consultations
Our law firm has a track record of success, proven by our selection to Wisconsin Super Lawyers for fourteen consecutive years.
Choosing the right lawyer to take on your case can feel overwhelming. And after everything you have been through, you should be able to trust and rely on the law firm you select to secure you maximum compensation for your damages. Mingo & Yankala, S.C. is here to guide you through the claims process so you can regain control of your life.
Common Motorcycle Accident Injuries
There are many factors involved in a motorcycle accident which can lead to such severe injuries, from the force of a larger vehicle against a motorcyclist and the lack of protection. At Mingo & Yankala, S.C., we represent clients who have suffered a wide range of injuries in motorcycle accidents.
A few examples of the injuries which can be sustained in a motorcycle accident include:
Broken bones
Concussions
Head injuries
Scarring
Loss of limb
Third-degree burns
Other catastrophic injuries
These are just a few of the more common injuries we see in motorcycle accidents in Milwaukee. If you have suffered another type of injury that was not described on this page, be sure to contact our office to find out whether we can take on your case.
Fault for Motorcycle Accidents in Milwaukee
In order to be awarded compensation for your Milwaukee motorcycle accident is if you are able to show that someone else is responsible for causing your accident. There are many different parties who may share blame for Milwaukee motorcycle accidents.
Most commonly, careless or reckless drivers are at fault in serious Milwaukee car accidents. Behaviors or actions that often lead to serious accidents include:
Following too closely
Road rage
Speeding
Failure to stop
Failure to use a turn signal
Failure to yield
Drowsy driving
However, negligent drivers are not the only cause of motorcycle accidents in Milwaukee. In some cases, the roadways may be unsafe, vehicle parts may be defective or malfunctioning, and other factors could all play a part in the cause of the accident. Some parties who are more frequently named in Milwaukee motorcycle accident claims include:
Auto parts designers
Vehicle parts manufacturers and distributors
Dealerships
Government agencies
Dram shops
Other third parties
An in-depth investigation into the details of your case will determine who is responsible for causing your accident. There is also a strong possibility that there are multiple parties who share liability for your motorcycle accident injuries in Milwaukee.
Pursuing claims against any parties who share fault for your injuries will likely increase the amount of your injury settlement. Your Milwaukee motorcycle accident attorney will work tirelessly to ensure that all negligent parties are held accountable for their negligent actions.
What to Expect From the Insurance Company After Your Milwaukee Motorcycle Accident
One of the most challenging aspects of any Milwaukee motorcycle accident claim is dealing with insurance companies. While insurance companies are notorious for their dealings with accident victims, motorcyclists are at an increased risk of being taken advantage of. This is because adjusters are often able to capitalize on what is often referred to as the "biker stigma".
Here, the insurance company will attempt to make it appear as though you, as the motorcyclist, were driving recklessly. If the insurance company is able to show that your reckless driving contributed to your injuries, they may be able to get away with reducing your injury settlement or denying your claim altogether.
Insurance companies may also attempt to reduce or deny your insurance settlement by manipulating any statement you may have given them in an attempt to access the approval for your insurance claim. Insurance and adjusters may make it seem as though you have admitted fault or guilt for causing the accident.
If this happens, it may be far more difficult for you to get your claim for compensation approved through the insurance company. For this reason, you need an experienced motorcycle accident attorney by your side who will ensure that fault is accurately assessed in your case, and that the insurance company is unable to take advantage of you during some of the most difficult times in your life.
"Receiving multiple awards and being recognized as a top attorney in Wisconsin for two consecutive years is an honor, but my clients' satisfaction is my most cherished award."

Mark Mingo

FOUNDER & ATTORNEY
Recovering Damages for Milwaukee Motorcycle Accident Victims
Our Milwaukee motorcycle accident attorney has more than 35 years of experience representing clients in personal injury claims of all types. In this time, we have recovered millions of dollars for individuals who have suffered injuries as a result of negligent behavior.
Motorcycle accident victims in Milwaukee have the right to be made whole. This means you should be compensated for every single loss you suffered. These losses are referred to as damages and typically fall into two separate categories: economic and non-economic damages.
Economic damages have a fixed monetary value while not economic damages do not. Non-economic damages are more difficult to quantify for this reason. Some of the more common types of economic and non-economic damages you could recover in your Milwaukee motorcycle accident lawsuit include:
Medical expenses
Cost of medical equipment
Pain and suffering
Mental anguish
Loss of future potential earnings
Unexpected child care costs
Diminished quality of life
Loss of companionship and love
Costs of household maintenance and care
Scarring and disfigurement
Costs of increased insurance premiums
Costs of repairing or replacing your motorcycle
If you hope to find out how much you could be awarded between your insurance claims and your civil lawsuit, reach out to your Milwaukee motorcycle accident attorney to discuss the specific details of your case.
Mark J. Mingo
Meet Mark J. Mingo, a renowned lawyer and founding member of Mingo & Yankala, S.C. Mark is a real legal champion, having over 100 successful jury trials and a track record of successfully settling countless personal injury claims. Mark has been recognized as a Wisconsin Super Lawyer® for over a decade, has been named one of the Top 10 Personal Injury Attorneys, and has a perfect 10/10 "Superb" AVVO rating. Mark Mingo will show you how to achieve excellence.
Years of experience: 44 years
Associations:

Wisconsin State Bar # 1004153
American Bar Association
Wisconsin Association for Justice
Ozaukee Country Club
Milwaukee Athletic Club

Location: Milwaukee, WI
Fault for Motorcycle Accidents in Milwaukee
Often, in cases involving motorcycle accidents, other drivers (who may be at fault) try to shift blame onto motorcyclists, alleging that motorcyclists contributed to the crash by speeding, failing to follow traffic laws, or general carelessness. These types of arguments are unfortunately not uncommon, as there exists a large amount of societal bias toward motorcycles and motorcycle riders.
While these arguments are one of the biggest reasons why it is so important to contact an attorney as soon as possible after a motorcycle accident, they are also important due to the way Wisconsin law addresses fault in accident cases.
Wisconsin is a "modified comparative fault" state, meaning that fault is apportioned between two parties involved in an accident, and a plaintiff's damages are reduced by the amount of fault attributed to the plaintiff. However, if a plaintiff is deemed to be more than 50 percent at fault, the plaintiff is barred from recovering completely.
Here's how that works in practice: if a motorcyclist is traveling at 25 miles per hour over the speed limit, and then gets into a crash with a vehicle who is otherwise following traffic laws, that motorcyclist likely would be deemed to have caused the accident. If a jury determined that the motorcyclist was more than 50 percent at fault, then the motorcyclist would be barred completely from recovering compensation in the case. If, on the other hand, the motorcyclist was found to be 30 percent at fault, the motorcyclist would collect 70 percent of the total damages awarded by a jury.  In other words, the motorcyclist's damages would be reduced by his/her percentage of contributory negligence.
Wisconsin's comparative fault rules have a big impact on all kinds of personal injury cases, and our attorneys are ready to assist you in navigating these complex rules. Contact us today to set up a free consultation on your case.
Get In Touch With Us
Have you been seriously injured in an accident in Wisconsin? You need a Milwaukee personal injury lawyer with the highest legal ability to leverage the complicated law in your favor.
Contact Us
or
Call Now
What to Do After a Milwaukee Motorcycle Accident
Like any other motor vehicle accident, a motorcycle accident is a significant and traumatic event, but due to a motorcyclist's exposed nature on the bike, motorcycle accidents can be more dangerous than accidents involving other types of vehicles. Here are some things to do if you find yourself involved in a motorcycle accident.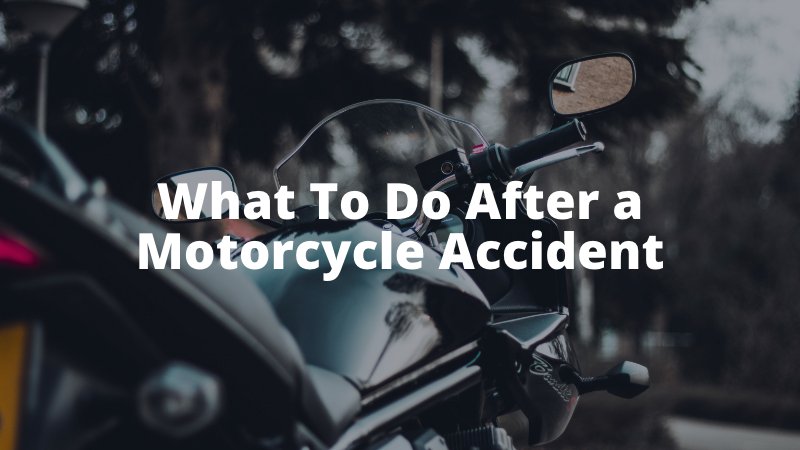 1. Ensure your safety and call 911.
First, ensure that you and any passengers are safe. As soon as possible, you should call 911, and if necessary, seek medical attention. Even if you do not need medical attention, calling 911 is necessary to obtain a police report regarding the accident. As soon as authorities arrive on the scene, seek medical care first, and then provide details on the accident to police as soon as possible thereafter.
2. Collect evidence to the fullest extent possible.
If you are able, collect as much evidence as possible from the scene of the accident. Take photos of the damage, including your motorcycle and any other vehicles involved, and take photos of the roadway and surroundings. If witnesses are present, ask for their contact information in case you need corroborating testimony in the future. If you are injured, take documentation of your injuries, including photos from the hospital, and make sure to save copies of any medical documentation you receive from doctors. As soon as you are able, write down everything you recall about the accident including what the other driver and any witnesses said at the accident scene.  This could prove to be important information in the future and memories quickly fade with time.
3. Contact an attorney.
As soon as possible after an accident, you should contact a trusted Milwaukee personal injury attorney who can assist you in weighing your options following a motorcycle accident. You may be able to seek compensation from another party or their insurance company to cover your past and future medical bills, past and future wage loss, pain and suffering and other expenses incurred as a result of the accident.
Milwaukee Neighborhoods Served
Bay View | Brewer's Hill | Clarke Square | Concordia | Cooper Park | East Town | Harambee | Halyard Park | Harbor View | Havenwoods | Haymarket | Hillside | Historic Mitchell Street | Historic Third Ward | Jackson Park | Lincoln Village | Lindsay Heights | Lincoln Village | Lower East Side | Martin Drive | Menomonee Valley | Merrill Park | Murray Hill | North Division | Old North Milwaukee | Riverwest | Sherman Park | Silver City | Story Hill | Thurston Woods | Triangle | Upper East Side | Walker's Point | Washington Heights | Washington Park | Westown | Whitefish Bay | Wilson Park | Yankee Hill
Contact a Motorcycle Accident Lawyer in Milwaukee Today
Time is of the essence when you have been injured in an accident and our firm is prepared to represent you. We do not work to get the fastest or easiest settlement but instead work hard to build a case on your behalf that will lead to the best outcome. Our Milwaukee motorcycle accident lawyers at Mingo & Yankala S.C. truly care about you and your family and we want to do whatever we can to reduce the burden put on you after an accident.
Have you been hurt in a motorcycle accident? Please call our office now at (414) 273-7400 to set up a complimentary case evaluation. Or complete our quick contact form, and we will reach out to you to find out more about your motorcycle accident injuries.