Milwaukee Drunk Driving Accident Lawyer
Drunk driving accidents are extremely tragic events.  Tragic in that they often result in catastrophic injuries, but also because they are entirely preventable.  Victims who have been struck by drunk drivers are often left with extensive medical costs, financial hardship, and lasting injuries or disability.
If you or a loved one have been injured in an alcohol-related collision in Milwaukee, you may need help holding the drunk driver accountable. At Mingo & Yankala, S.C., our Milwaukee personal injury attorneys are here to help you through this difficult time. We can discuss the details of your case and work to secure the compensation you need to recover from your injuries.  We have significant experience representing clients who have been injured in alcohol-related collisions and understand how to build strong cases and maximize compensation.
You deserve peace of mind while recovering from your injuries. Call today at (414) 273-7400 for a free, no-obligation case evaluation.
How Common Are Drunk Driving Accidents?
In a legal sense, drunk driving refers to the operation of a motor vehicle while intoxicated or under the influence of alcohol.  It is most often proven with a blood alcohol concentration (BAC) test to prove that a driver was above the legal limit of .08.  However, even lower levels of BAC can impact a person's driving and the safety of those on the road around them.  Drunk driving is a problem that is pervasive and widespread in Wisconsin and throughout the United States.
According to the Centers for Disease Control and Prevention (CDC), in the last reporting year:
28 percent of all automobile-related fatalities involved drunk drivers.
Over 10,000 people suffered fatal injuries in drunk driving accidents.
More than 1 million motorists were arrested for driving under the influence.
According to Keep Wisconsin Safe, more adults are reportedly driving drunk:
On average, 1.7 percent of U.S. adults admit to driving after drinking too much.
In Wisconsin, 2.4 percent of adults have confessed to drinking and driving.
If you or a loved one has been seriously injured in a drunk driving accident, it is important to speak with one of our Milwaukee drunk driving lawyers to discuss the best course of action.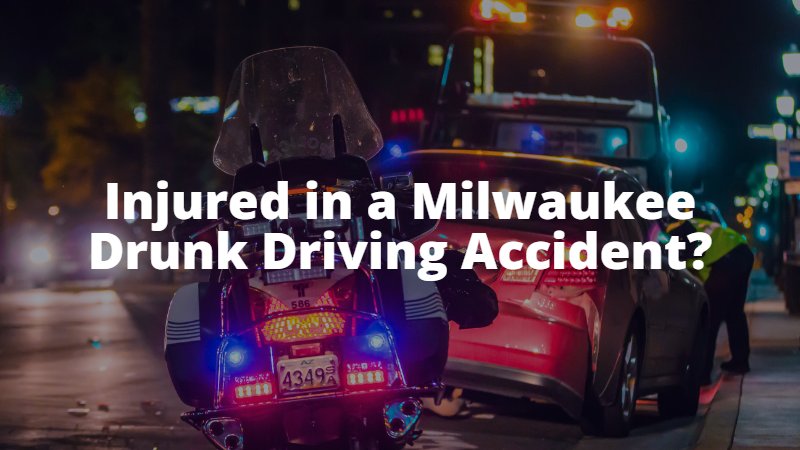 Who May be Liable in Drunk Driving Accidents?
While no one can undo the damage that was done, a civil lawsuit may be your only remedy to recover compensation.  In most cases, the drunk driver will be liable for the damage and injuries that they cause.  If they have sufficient liability insurance to cover the losses, their insurance company will be responsible for paying damages to the victim. This can include:
Full compensation of your medical expenses
Lost income if you are unable to work
Loss of future earnings
Pain and suffering
Emotional distress
Possible punitive damages
If the driver does not have sufficient insurance or has no insurance at all, victims may be able to recover compensation under their own uninsured or underinsured motorist policies.
There are other avenues of compensation available in certain circumstances as well.  In some cases, a bar or social host may be liable if they knowingly, or reasonably should have known, that they served or furnished alcohol to someone under the age of 21 and that person caused the collision.
Consult With Our Milwaukee Drunk Driving Accidents Attorneys
At Mingo & Yankala, S.C., we understand how devastating a drunk driving collision can be.  If you or a loved one have been involved in a Milwaukee car accident involving a drunk driver, it is vital that you speak with an experienced attorney.  These cases typically involve serious injuries,  significant damages, and complex insurance and legal issues.  Please, call an attorney at Mingo & Yankala, S.C. today at (414) 273-7400 for a free and confidential case evaluation.  We never charge a fee for our services until we successfully resolve your case.