Milwaukee Slip and Fall Attorney
Slip and fall accidents can and very often do lead to severe injuries including head and brain injury, broken bones, and ligament damage. Often, falls like these are the result of a dangerous condition on a property, such as broken or loose handrails, slippery flooring, inadequate lighting, or uneven staircases.
If an irresponsible or negligent property owner is responsible for your slip and fall injuries, you may be entitled to compensation for your losses. At Mingo & Yankala, S.C., our Milwaukee personal injury lawyer can help.  Call today for a free and confidential case evaluation.  We can conduct a thorough investigation into the incident and help you recover the financial compensation you need and deserve.
Slip & Fall Injury Resources
Why You Need a Slip and Fall Accident Lawyer in Milwaukee
Hiring the right attorney does make a difference to your slip and fall case. Representing yourself puts you at risk of making a mistake that significantly hurts your ability to move forward, such as accepting an inadequate settlement offer from an insurance company or missing your deadline to file altogether. With a lawyer by your side, it's easy to correctly handle the claims process.
Your Milwaukee slip and fall lawyer will take care of the legal legwork of your case for you while you concentrate on healing, including:
Answering all of your legal questions and providing advice that you can trust.
Conducting a comprehensive slip and fall accident investigation.
Preserving and collecting key evidence to support your injury claim.
Obtaining important records and documents, such as a police report and medical records.
Interviewing eyewitnesses and hiring qualified expert witnesses to testify on your behalf.
Taking over settlement negotiations with an insurance claims adjuster.
Bringing your case to trial in Milwaukee, if necessary.
A Milwaukee injury lawyer will know exactly how to build and present your slip and fall accident case for optimal results. Furthermore, your slip and fall lawyer won't be afraid of taking o insurance companies and other powerful adversaries, including a business, corporation or government entity. If you are curious about all the benefits that can come with hiring a slip and fall accident lawyer, request a free consultation at Mingo & Yankala, S.C. We are always honest about whether someone needs an attorney, as we won't waste our time accepting a case that doesn't need us.
Who is Liable in Slip and Fall Accidents in Milwaukee?
Every slip and fall accident claim is different. However, when a person slips, trips, and falls as a result of a dangerous condition, the property owner is often found to share fault for the victim's injuries.  In Wisconsin, property owners are required by law to keep their properties reasonably safe for visitors under the "Safe Place Statute". The safe place statute imposes a heightened duty on owners of public buildings to construct, repair, and maintain their buildings safely. The statute does not address negligent acts; instead, it addresses unsafe property conditions.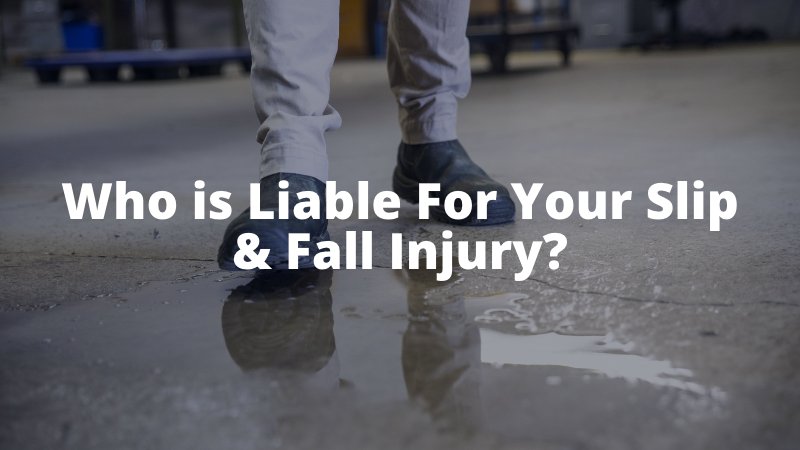 There are a number of different unsafe property conditions that can lead to a serious injury as a result of a slip, trip and fall, including
Wet flooring
A lack of warning signs posted
Spilled food or drinks
Uneven curbs
Uneven or loose flooring
Loose handrails
Missing floor tiles
Broken lights or a complete lack of lighting
Loose rugs or carpeting
Exposed cords
Cluttered aisles or walkways
Obstacles that create trip hazards
Depending upon the circumstances of the incident, you may have a claim. It is important to remember that the business or property owner could have reasonably known about the issue and failed to fix it. To establish liability, your attorney will need to prove that:
you were a welcome visitor to the property
a dangerous condition existed on the property
the owner of the property was aware of the condition and had an opportunity to fix or remedy the condition
the dangerous condition led to your injuries.
If it can be proven that a building owner is liable for your injuries, they may be responsible for compensating you for your losses.
Common Injuries in Slip and Fall Cases
Despite having a reputation as minor incidents, slips and falls can result in severe injuries. Some victims never fully recover from slip, trip and fall accidents – especially vulnerable elderly victims. A senior citizen is at risk of a hip fracture in a fall, which is an injury with a high likelihood of serious complications, such as deadly infections and blood clots. However, victims of any age can suffer significant, lasting injury in a slip and fall incident, such as:
Torn ligaments
Sprains or strains
Bone fractures
Dislocations
Cuts, scrapes and lacerations
Knee injuries
Contusions
Herniated or ruptured disks
Nerve damage
Paralysis
Internal injuries
If a victim tries to catch himself or herself on the way down, this can cause serious injuries to the hands, wrists, elbows and arms. If the victim doesn't manage to catch himself or herself, however, a fall accident can lead to other major injuries, such as a skull fracture and traumatic brain injury. Either way, the victim can suffer life-changing injuries. If you or a loved one was diagnosed with any type of injury after a slip and fall accident in Milwaukee, our lawyers can help you pursue justice.
Three Types of Property Visitors
The first element of a slip and fall claim is that you were a welcome visitor to the property. This means that you weren't trespassing at the time of your accident. Being a trespasser means that you do not have a property owner's permission or the lawful right to enter or remain on a premises. Property owners in Wisconsin don't owe any duties of care to trespassers other than a duty not to intentionally cause them harm. The only exception is if a trespasser is under the age of 18.
The two legal types of property visitors are invitees and licensees. Invitees are visitors who have an express or implied invitation to enter a property for the owner's own purposes or benefit, such as customers at a store. Invitees are given the highest duties of care under premises liability law – a property owner must inspect his or her property for hidden or new hazards, promptly repair any known property defects, and post warning signs of any potential injury risks before allowing an invitee to enter the property.
Licensees are also lawfully allowed to enter a property, but they do so for their own purposes, such as a friend making a social call or a door-to-door salesperson. Property owners in Wisconsin also owe licensees a duty of care to fix known defects and warn of hazards, but they do not have a duty to inspect a property beforehand for potential injury risks. If you need help determining what type of visitor you were at the time of your slip and fall accident in Milwaukee, our lawyers can investigate for you.
What if You Fell on Public Property?
If you suffered an injury after falling on public property in Milwaukee, you may still have grounds to file a slip and fall claim. Wisconsin's Tort Claims Act states that as long as an action is brought within 120 days of the event that caused the injury, a civil action may be filed against a government entity for negligence that arose in the course of the party's official duties.
You may be able to file a slip and fall claim against a federal, state or local government entity for a preventable slip and fall that takes place on a public street, park, building or sidewalk if your fall reasonably could have been prevented with an ordinary level of care by the owner of the premises.
Damages Available in a Slip and Fall Claim
At Mingo & Yankala, S.C., we are aware that no amount of money is enough to make up for an injury suffered because of a property owner's negligence – especially if you have a life-changing injury. However, we also know how helpful it can be to get the money that you need to pay for your related present and future bills, such as medical costs. A successful slip and fall accident claim in Milwaukee could result in compensation for many of your losses, including:
Pain and suffering
Emotional distress
Past and future medical expenses
Physical therapy or rehabilitation
Permanent disability
Lost wages
Reduced earning capacity
Lost quality of life
Loss of consortium
Out-of-pocket costs
Attorney's fees
Punitive damages, in some cases
The value of your slip and fall case will depend on your specific circumstances, such as the gravity of your injuries, your prognosis for recovery, and the insurance coverage available. Our slip and fall attorneys can estimate how much your case is worth only after a careful analysis of all the facts and details. You can trust our slip and fall injury lawyers to give you an accurate idea of how much your case is worth, as we want to maximize your financial recovery – unlike an insurance company that will want to minimize your payout.
What Is the Comparative Negligence Defense?
A common challenge encountered in slip and fall accident cases is the comparative negligence defense. Comparative negligence accuses a plaintiff of causing or contributing to his or her own injuries, for the purpose of diminishing the defendant's liability. In Wisconsin, Section 895.045 of the law states that a victim's own contribution to his or her injuries will not bar him or her from financial recovery from the person against whom a claim is brought, as long as the victim's percentage of fault is below 51 percent. In other words, if a victim has less than the majority share of fault for a slip and fall accident, he or she can still recover financial compensation.
The other half of Wisconsin's comparative negligence rule, however, reduces the plaintiff's financial award by an amount equivalent to his or her fault. If you are found to be 10 percent at fault for your slip and fall accident for texting and walking, for example, but the defendant is 90 percent responsible for failing to fix a known property defect, your compensatory award would be reduced by 10 percent. If you wish to maximize your financial outcome, it is important to hire an attorney to help you reduce your amount of liability for a slip and fall accident in Milwaukee.
Get Help From a Milwaukee Slip and Fall Lawyer
If you have been injured after a fall on public property, it is in your best interests to speak with a premises liability attorney in Milwaukee.  At Mingo & Yankala, S.C., our Milwaukee slip and fall accident attorneys can help.  Call us today at 414-273-7400 for a free and confidential case evaluation when you are ready to move forward with your case.