Milwaukee Jackknife Accident Lawyer
The term jackknifing describes incidents where the trailer of a truck swings towards the cab, creating a 'v' or 'l' shape. When the trailer is freely swinging across a busy highway, it often results in a serious accident involving multiple vehicles.  While these collisions are relatively rare, when they happen they are exceedingly deadly.  In fact, while jackknife accidents make up around one percent of all truck accidents in the United States, they are responsible for nearly 4.5 percent of all trucking fatalities.
Despite the namesake, a truck does not have to create the signature shape to be considered a jackknife accident.  The FMCSA defines jackknifing as "a condition that occurs to an articulated vehicle (any vehicle with a trailing unit(s) connected by a "hitch"; while in motion. The condition reflects a loss of control of the vehicle by the driver in which the trailer(s) yaws from its normal straight-line path behind the cab."  However, any situation that involves an out-of-control commercial truck is dangerous.
If you or a loved one have been injured in a truck accident, Mingo & Yankala, S.C. can help.  Our Milwaukee jackknife attorneys understand how great the impact of a serious injury can be on your life and how important the legal process can be in moving forward.  Call today for a free, no-obligation consultation with one of our Milwaukee personal injury lawyers.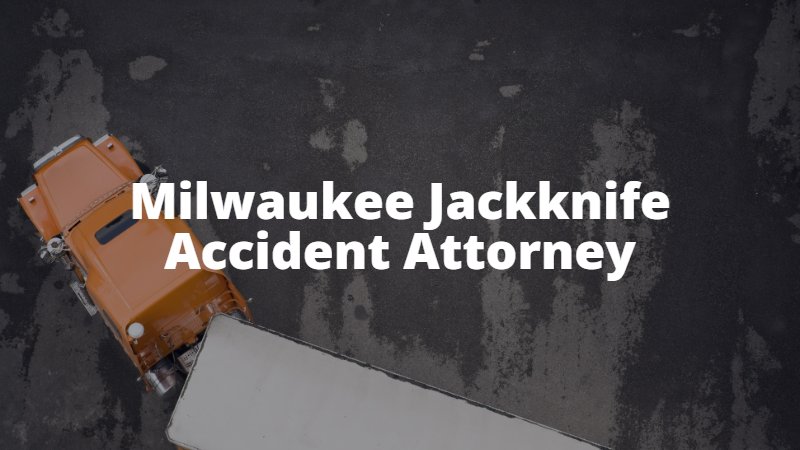 Why Do Jackknife Accidents Happen?
Jackknife accidents happen when a driver applies the brakes and the cab of the vehicle skids, but the trailer does not stop or slow down.  This can happen for several reasons, many of which involve negligence on the part of the driver of the truck or the company that employees them.  The U.S. Department of Transportation released a study, An Analysis of Fatal Large Truck Crashes, that examined the common causes of jackknife accidents:
Improper cargo loading or empty trailer
Inexperienced or underqualified truck driver
The study also found that at 55 mph or more, as the weight of the truck increases, the odds of a jackknife decrease. Truck drivers who have just unloaded their cargo must be conscious of the possibility of a jackknife and adjust their driving accordingly.
How Can a Milwaukee Jackknife Attorney Help?
Truck accident liability is rarely straightforward.  If you were injured in a truck accident, it is imperative you seek the counsel of an experienced truck accident attorney to help you determine all liable parties. In most cases, a thorough investigation must be conducted to determine all liable parties. While law enforcement and the trucking company will conduct their own investigations, it is in your best interest to seek experienced representation.
A Milwaukee truck accident attorney will protect your rights by conducting an in-depth investigation to determine negligence. One or more parties could be at fault, including:
The truck driver
The trucking company
The manufacturer of the truck
The mechanic responsible for maintaining the truck
After gathering critical evidence to support your claim, we will negotiate with the liable party's insurance carrier. If the insurance company does not offer a settlement that is fair, we will file a lawsuit and take them to court.
Injuries Caused by Jackknife Accidents
As with any collision involving a large commercial truck, jackknife accidents often cause catastrophic injury. These injuries include:
Severe burns
Spinal cord injuries
Lacerations
Fractures and broken bones
Internal injuries
Amputation injuries
In the most severe cases, the injuries they cause are fatal.
Contact Our Milwaukee Jackknife Lawyers Today
At Mingo & Yankala, S.C., our Milwaukee truck accident attorneys understand the severity and complexities involved in jackknife accidents. If you or a loved one has suffered injuries in a jackknife collision, let us work to secure the compensation you deserve.
Call Mingo & Yankala, S.C. today to schedule a free case evaluation. You can contact us by clicking here or calling (414) 273-7400.