Milwaukee Insurance Bad Faith Lawyer
When we purchase insurance coverage for our home, car, health, or any other assets, we rely on it to support us during our times of need. Wisconsin law also requires insurers to pay out and honor all legitimate insurance claims in a timely manner, and to generally act in good faith. This means that when an insurer delays or denies legitimate insurance claims, or uses other illegal or unfair tactics against you, you may be able to file an "insurance bad faith" claim against the insurance company and get properly compensated for your losses.
If you believe an insurer is treating your claim unfairly, call a lawyer today. At Mingo & Yankala, S.C., our attorneys can assist you through the legal process, protect your rights and ensure you recover the compensation you are entitled to. Contact our experienced attorneys to discuss your case during a free consultation.
Why Call Mingo & Yankala, S.C?
Dealing with an insurance bad faith claim on your own can be stressful; get help from our team of dedicated Milwaukee personal injury attorneys at Mingo & Yankala, S.C.
At Mingo & Yankala, S.C., our entire practice is centered around our clients and providing them with the personal attention they deserve as well as award-winning legal services.
Our attorneys began their careers as insurance defense attorneys. This experience on the other side allows us to understand how insurance companies operate, the bad faith tactics they employ and how to counter them, putting us at an advantage. In addition, we have maintained relationships with insurance companies that help us secure favorable settlements for our clients.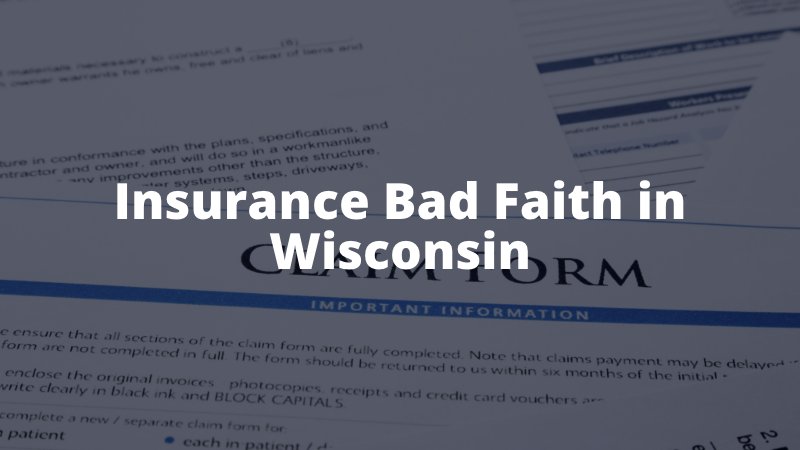 What Is Insurance Bad Faith?
Insurers have a duty to handle the claims process properly, fairly, and with good faith. Wisconsin law defines what is considered unfair claim settlement practices, in an attempt to promote an insurer's fair and equitable treatment.
Insurance bad faith is an unethical practice where an insurance company fails to adhere to its own insurance policies – by diminishing, delaying, or denying payment of a legitimate insurance claim.  An insurance bad faith claim can be a first-party claim – involving the claimant's own insurance company – or a third-party claim – involving the way another insurance company defends a claim against it.
Examples of Insurance Bad Faith
Some common examples of insurance bad faith include when an insurer fails to promptly acknowledge claims from a customer, fails to conduct a claims investigation with all reasonable parties or provide claims forms, fails to affirm or deny claims in a reasonable time frame, or any other practice that is considered unfair or a violation to the insurance policy.
The following are considered unfair claim settlement practices, or insurance bad faith (Wis. Admin. Code § Ins 6.11) :
Failure to promptly acknowledge pertinent communications with respect to claims arising under insurance policies.
Failure to initiate and conclude a claims investigation with all reasonable dispatch.
Failure to promptly provide necessary claims forms, instructions, and reasonable assistance to insureds and claimants under its insurance policies.
Failure to attempt in good faith to effectuate fair and equitable settlement of claims submitted in which liability has become reasonably clear.
Failure upon request of a claimant, to promptly provide a reasonable explanation of the basis in the policy contract or applicable law for denial of a claim or for the offer of a compromise settlement.
Knowingly misrepresenting to claimants pertinent facts or policy provisions relating to coverages involved.
Failure to affirm or deny coverage of claims within a reasonable time after proof of loss has been completed.
Failure to settle a claim under one portion of the policy coverage in order to influence a settlement under another portion of the policy coverage.
Except as may be otherwise provided in the policy contract, the failure to offer settlement under applicable first-party coverage on the basis that responsibility for payment should be assumed by other persons or insurers.
Compelling insureds and claimants to institute suits to recover amounts due under its policies by offering substantially less than the amounts ultimately recovered in suits brought by them.
Refusing payment of claims solely on the basis of the insured's request to do so without making an independent evaluation of the insured's liability based upon all available information.
Failure, where appropriate, to make use of arbitration procedures authorized or permitted under any insurance policy.
Adopting or making known to insureds or claimants a policy of appealing from arbitration awards in favor of insureds or claimants for the purpose of compelling them to accept settlements or compromises less than the amount awarded in the arbitration.
These standards apply to a wide range of insurance types and are outlined in Ins 6.75  Classifications of insurance and include:
Life and disability insurance
Credit life insurance
Variable life insurance and variable annuities
Disability insurance
Credit accident and sickness insurance
Property and casualty insurance
Fire, inland marine, and other property insurance
Disability insurance
Credit accident and sickness insurance
Liability and incidental medical expense (other than automobile) insurance
Automobile insurance
Fidelity insurance
Surety insurance
Title insurance
Mortgage guaranty insurance
Credit insurance
Worker's compensation insurance
Legal expense insurance
Credit unemployment insurance
Aircraft insurance
And most other insurance against any other property or casualty insurance risk which lawfully may be the subject of insurance.
Timely Payment of Claims
Under Wisconsin law, an insurer is required to pay legitimate insurance claims on time. A payment is considered overdue if the insurer fails to pay within 30 days after providing written notice of the covered loss and the amount of the loss.
Wisconsin Statutes: Insurance § 628.46. Timely payment of claims: Unless otherwise provided by law, an insurer shall promptly pay every insurance claim. A claim shall be overdue if not paid within 30 days after the insurer is furnished written notice of the fact of a covered loss and of the amount of the loss. If such written notice is not furnished to the insurer as to the entire claim, any partial amount supported by written notice is overdue if not paid within 30 days after such written notice is furnished to the insurer. Any part or all of the remainder of the claim that is subsequently supported by written notice is overdue if not paid within 30 days after written notice is furnished to the insurer. Any payment shall not be deemed overdue when the insurer has reasonable proof to establish that the insurer is not responsible for the payment, notwithstanding that written notice has been furnished to the insurer. For the purpose of calculating the extent to which any claim is overdue, payment shall be treated as being made on the date a draft or other valid instrument which is equivalent to payment was placed in the U.S. mail in a properly addressed, postpaid envelope, or, if not so posted, on the date of delivery. All overdue payments shall bear simple interest at the rate of 7.5 percent per year.
How Is Bad Faith Proven?
According to Anderson v. Continental Ins. Co., you and your attorney must be able to prove the following elements in order to establish a claim of insurance bad faith in Wisconsin:
The absence of a reasonable basis for the insurance company's denial of benefits
The insurance company's knowledge or reckless disregard for the lack of a reasonable basis for denying the claim
This means that you would need to show that given the facts and circumstances of your case, a reasonable insurer would not have denied or delayed paying your claim. The judge or jury would also need to determine if the insurance company performed a reasonable and fair investigation and evaluation of your claim.
How Can an Insurance Bad Faith Attorney Help?
Dealing with insurance companies on your own is challenging in itself, but it can be much worse when the insurer is using unfair practices against you. An experienced insurance bad faith attorney can investigate your claim and help you identify signs of bad faith tactics. An attorney will have a deep understanding of insurance bad faith laws and the resources needed to go up against your insurance company. This includes ensuring that your case is filed within the statute of limitations which is two years in Wisconsin.  However, this time limit does not always begin on the date of denial, but rather the date that you discover, or the date that a reasonable person would have discovered, the bad faith.
Most importantly, however, your attorney will make sure you receive full and just compensation for your insurance bad faith claim.
Contact Mingo & Yankala, S.C. Today
If you believe your insurance claim was denied or delayed unfairly, contact Mingo & Yankala, S.C. Our lawyers can help you hold the insurance company accountable and make sure you receive the compensation that is rightfully yours. Call today to schedule a free case consultation with one of our attorneys. We do not charge any fees until after we secure compensation on your behalf.