Who Can File a Wrongful Death Claim in Wisconsin?
Losing a family member to a tragic accident can be devastating. Unexpected deaths often leave remaining family members physically and emotionally distraught, unable to work, and without the funds to pay monthly expenses or make end-of-life arrangements for the deceased.
If your loved one was killed by someone else's negligence, you may be eligible to file a wrongful death claim on their behalf. Read further for information on filing a wrongful death lawsuit in Wisconsin and legal options available to surviving family members.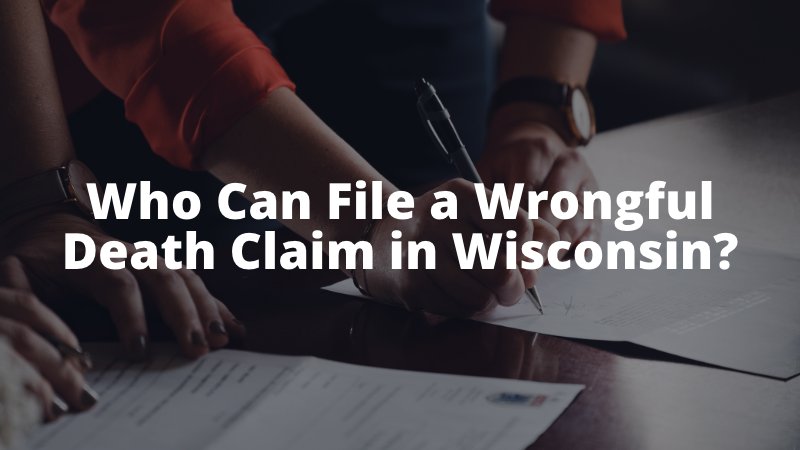 Who Can File a Wrongful Death Claim in Wisconsin?
Per Wisconsin law, the following family members may file a wrongful death claim:
A surviving spouse;

A domestic partner;

A child;

A parent; or

A guardian of the deceased. 
A personal representative of the deceased's estate may also file a claim. This person need not be a family member. A sibling may file a wrongful death claim only if there is no surviving spouse, domestic partner, minor child, or lineal heirs.
How is a Wrongful Death Settlement Distributed in Wisconsin?
Any money awarded in a wrongful death settlement in Wisconsin is distributed according to the relationship of the beneficiary to the deceased and their dependence on the deceased. For example, the primary beneficiary of a wrongful death award is the surviving spouse or domestic partner. 
Following the spouse or domestic partner would be the deceased's minor children and so on according to the order of succession.
Is There a Statute of Limitations to File a Wrongful Death Claim in Wisconsin?
Wisconsin requires wrongful death claims to be filed within three years of the death. There is an exception for motor vehicle accidents. When a motor vehicle is the cause of death, a wrongful death claim must be filed within two years of the death.
Is a Wrongful Death Claim Different from a Survival Action in Wisconsin?
A wrongful death claim is different from a survival action in Wisconsin. Close family members of the deceased file a wrongful death claim seeking damages on their behalf. 
In a survival action, damages are for the deceased person's expenses, pain, and suffering before death. These damages are paid to the estate.
How are Wrongful Death Damages Determined in Wisconsin?
Several factors are taken into account when determining a wrongful death settlement amount in Wisconsin. While every life is valuable, great value is placed on youth, earning capacity, and the following:
Health;

Income level and education;

End-of-life costs;

Lost benefits such as health insurance and retirement savings; and

Medical bills.
Having an experienced, skilled attorney representing a family's interests is key to ensuring an insurance company negotiates fairly and does not unjustly deny or undervalue a claim. 
Contact an Experienced Milwaukee Wrongful Death Attorney Today
If you lost a loved one to someone else's negligent acts, do not hesitate to contact the wrongful death attorneys at Mingo & Yankala, S.C. Our caring and empathetic attorneys want to see your family get the compensation you deserve and need to move forward with your lives. 
At Mingo & Yankala, S.C., we believe people and companies should be held responsible for their actions. Filing and pursuing wrongful death claims is one of the best ways families can ensure that happens. 
Speak with an attorney in our Milwaukee office today at no cost. There are no out-of-pocket expenses when you retain Mingo & Yankala, S.C. We only get paid when we win compensation for you.