When Are Parents Liable for Teenager Car Accidents?
Getting a driver's license is a rite of passage. However, people who are otherwise recognized as children under the law are given the keys to a dangerous instrument when they are allowed to drive. If you are involved in a car accident with a teen driver, the situation may be complicated as you wonder what your rights are under the law. An experienced car accident lawyer at Mingo & Yankala, S.C. can help. 
Common Causes of Teen Driver Accidents
The American Academy of Pediatrics reports that a 16-year-old driver is more than 20 times as likely to be involved in a motor vehicle accident than other licensed drivers. Motor vehicle accidents are a leading cause of death for people under 21 years of age. Some of the reasons why teens are more likely to be involved in car crashes than older drivers include:
Inexperience

– Teen drivers simply lack the real-world experience of driving in different environments. They may not know how to respond to a hazard or how to properly handle the vehicle at night or in inclement weather.  

Immaturity

– Teens' brains are still developing and the areas of the brain responsible for judgment and reasoning are still under construction. Teen drivers may act in an immature fashion and cause harm to other motorists.  

Distractions

– Despite the many public service campaigns warning teens about the dangers of distractions, distracted driving continues to be a problem for this younger demographic. When you combine a teen's lack of focus and inexperience, the results can be deadly. 

Impaired driving

– Even though they are under age, some teen drivers may choose to drink and drive. The

Centers for Disease Control and Prevention

reports that teens are more likely to be involved in a crash than older drivers at the same blood alcohol content.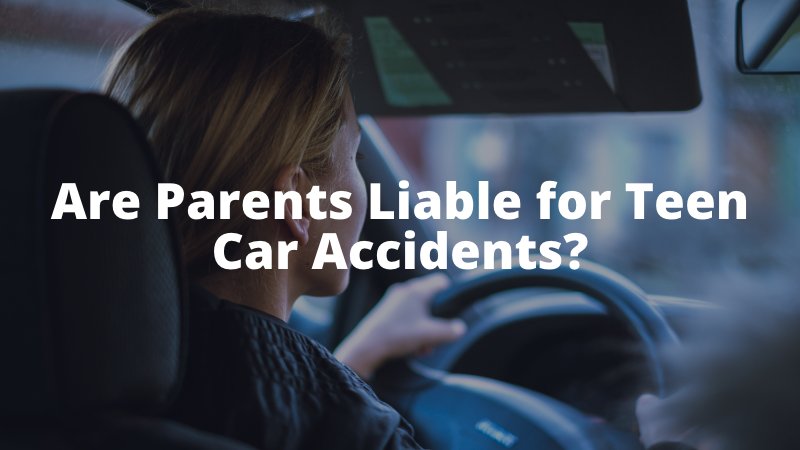 Parental Responsibility for Teen Car Accidents
Wisconsin law requires parents, a stepparent, or adult sponsor to sign and verify the application of a person under 18 years of age for their license. Signing and verifying the application conveys that the person signing accepts any liability stemming from the negligent or willful operation of the motor vehicle. The liability of the parent for the teen's actions is the greater of the amount of insurance under the parent's auto insurance policy or $300,000 for all parents or adult sponsors. 
Therefore, parents are generally liable for the acts of their teen drivers who are under the age of 18, at least up to the limits provided by law. An exception is if the parent files a verified written request to cancel the minor child's application. Another exception is if the child is emancipated and therefore considered an adult as a matter of law. 
Once a teen turns 18, their parents might not be responsible for them any longer. In a situation involving an accident caused by the young driver, the claim would be against the driver and the insurance policy that covers them. However, this could be problematic for another motorist since a young driver may only have the minimum amount of liability coverage and no personal assets to pursue if the damages exceed this amount. 
Contact an Experienced Car Accident Lawyer 
If you were injured in a car accident caused by a young and inexperienced driver, reach out to an experienced car accident attorney at Mingo & Yankala, S.C. We can investigate your claim and all possible avenues of recovery. Contact us online or call us at 414-273-7400 to get started today.