Understanding Damages in Wisconsin: Economic, Non-Economic, and Punitive
"Damages" is a broad legal term used to describe the compensation awarded in personal injury claims. Damage awards are meant to reimburse an injury victim for their accident-related losses whether those are physical, mental, emotional, or financial.
The following is an overview of damages in Wisconsin. If you or a loved one suffered injuries through no fault of your own, seek individual advice from an experienced personal injury attorney in Milwaukee.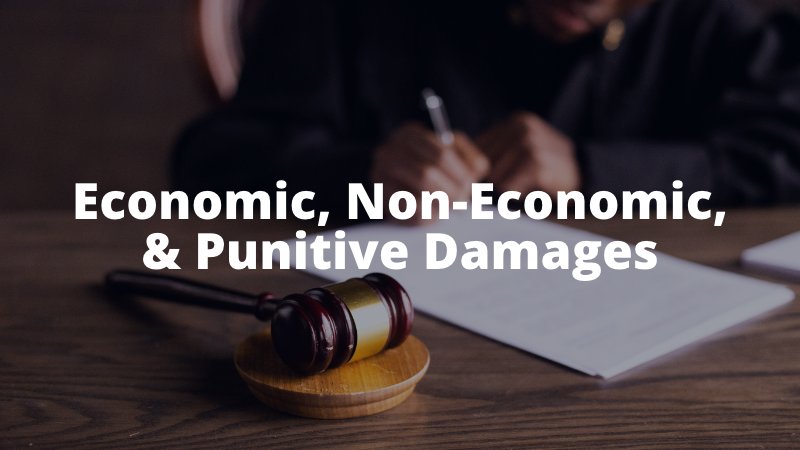 Compensatory Damages in Wisconsin
Compensatory damages are monies awarded to a personal injury victim in an effort to return them as closely as possible to their pre-accident state. Compensatory damages may be one of two types, economic or non-economic damages.
Economic Damages in Wisconsin 
Economic damages have an affixable, monetary value. Generally, these losses are associated with documents like:
Bills;

Invoices;

Receipts; 

Pay stubs; and

Benefit statements.
Economic damages include but are not limited to:
Medical visits;

Prescription drugs;

Surgeries;

Occupational therapy and rehabilitation;

Lost income;

Loss of earning potential; and

Property loss or replacement.
Economic damages are available for current and future accident-related expenses. Future expenses are assessed by experts in the financial, medical, or occupational fields.
Non-Economic Damages in Wisconsin
Non-economic damages are subjective, personal losses suffered by an accident victim. Unlike economic damages, they have no assignable dollar amounts or documentable value.
Non-economic damages are specific to individuals. Recovering these damages may require oral or written testimony from a victim's friends, family members, doctors, mental health counselors, and more.
Non-economic damages may be awarded for any of the following:
Mental and emotional trauma;

Anxiety;

Depression;

Loss of enjoyment of life;

Loss of consortium, companionship, or affection with a partner or children;

Post-traumatic stress disorder (PTSD); and

Scarring and disfigurement.
Wisconsin limits non-economic damage awards against the state at $250,000, local municipalities at $50,000, and medical malpractice claims at $750,000.
Punitive Damages in Wisconsin 
Punitive damages are not compensatory damages. Rather, they are damages used to punish or set an example of a grossly negligent, malicious, or reckless defendant. 
Punitive damages are also meant to discourage similar behavior by the defendant or others in the future. Wisconsin limits or caps the amount of punitive damages a court may award at twice the compensatory damages award or a maximum of $200,000.
To receive punitive damages in Wisconsin, a victim's attorney must prove:
The defendant acted maliciously toward the victim; or

Acted with an intentional disregard for the rights of the victim; and

The defendant has the wealth or ability to pay a punitive damages award.
To learn more about punitive damages and if your case could qualify, contact an experienced Milwaukee personal injury attorney today.
Contact an Experienced Milwaukee Personal Injury Attorney Today
Damages can be confusing for personal injury sufferers. Before speaking with an insurance adjuster or signing any settlement documents, talk to the experienced attorneys at Mingo & Yankala.
It is vital you know and understand the types and amounts of damages for which you qualify. Otherwise, you may sign away your right to much-needed accident compensation. 
Schedule your complimentary consultation with an award-winning personal injury attorney at Mingo & Yankala. There is no risk to you so contact us today.