Delivery Truck Accident: What Happens Next?
Delivery truck drivers owe fellow motorists, bicyclists, and pedestrians a duty to exercise reasonable care and caution when operating their vehicles. When drivers choose to violate or ignore this duty, innocent people can suffer debilitating accidents and property loss.
If you were injured in a delivery truck accident, you may wonder what steps you can take to protect your legal rights and ability to recover accident-related expenses. The following highlights both these actions as well as the major differences between delivery truck accidents and other motor vehicle collisions.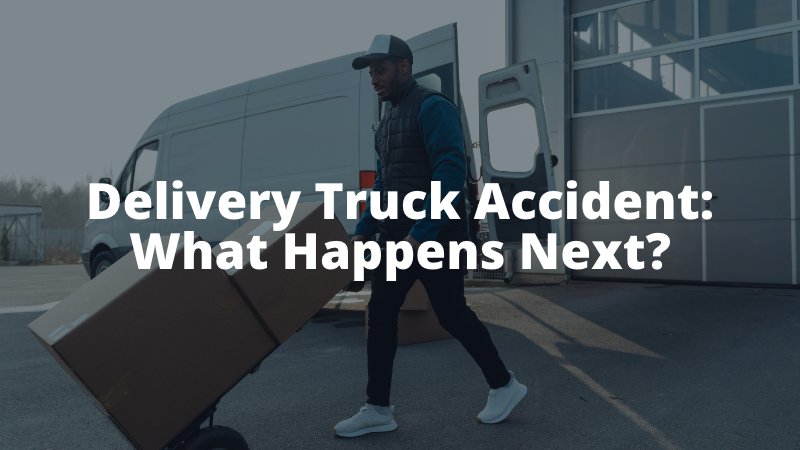 Types of Delivery Trucks
Several types of delivery trucks travel Wisconsin's roads and highways each day. The most common of these are:
Large vans;

Platform trucks;

Box trucks; and

Flatbed trucks.
Most delivery trucks are classified as medium trucks and weigh from 14,000 to 19,000 pounds.
What Causes Delivery Truck Accidents?
The majority of truck accidents, including delivery truck accidents, are due to human error or distracted driving.
This includes but is not limited to:
Driving under the influence of drugs or alcohol;

Speeding; 

Driving drowsy; 

Cell phone use;

Checking GPS; or

Ignoring traffic signs and signals.
Unique Causes of Delivery Truck Accidents
There are some causes of delivery truck accidents that are unique to these vehicles. For example, delivery trucks are known for the following:
Making sudden stops without warning;

Performing sudden left turns to avoid missing a turn;

Backing up without checking

blind spots

for vehicles, children, objects, or pedestrians;

Failing to engage the truck's parking brake when leaving the vehicle to deliver a package; and

Improperly securing packages causing load shifts and loss of vehicle control.
Regardless of how a delivery truck accident occurs, be sure to protect your rights to a future legal claim and reimbursement of your medical expenses.
Steps to Take Following a Delivery Truck Accident
The most important step to take following any delivery truck accident is to seek police and medical attention. Afterward, do the following:
Do not admit fault or apologize to anyone for the accident;

Make only factual statements about the accident to the police;

Answer only the questions you are asked;

Once the scene is secured and if you are able, take photos of the accident scene, vehicle damage, and your injuries;

Write down the names, addresses, and phone numbers of any eyewitnesses;

Do not offer any medical opinions as to your injuries or anyone else's injuries;

Always accept medical care and state any symptoms you are experiencing;

Follow-up emergency care with a doctor's appointment;

Go to recommended therapies and treatments;

Keep a daily record of your health symptoms; and

Journal about the accident's impact on your work, social, family, and life overall.
Record-keeping is vital after any personal injury accident. Medical records, bills, invoices, and journals all add credibility to an injury claim and are verifiable proof of damages.
Catastrophic Injuries and Delivery Truck Accident Compensation
Trucks are large vehicles, and the injuries they cause to accident victims can be catastrophic. Catastrophic injuries are long-term, life-changing injuries that can leave an accident victim disfigured or disabled.
Catastrophic injuries need ongoing, costly care. Experienced personal injury attorneys work diligently to get their clients compensation to cover these costs and other accident-related expenses.
Recoverable damages in a delivery truck accident claim may include: 
Medical and hospital bills, both current and future;

Lost wages;

Loss of future earning capacity;

Pain and suffering; and

Property damage.
For more information about moving forward with your delivery truck accident claim and whether you qualify for accident-related compensation, contact a Wisconsin personal injury attorney.
Contact a Wisconsin Delivery Truck Accident Attorney Today
To discuss your Milwaukee delivery truck accident with a professional, call Mingo & Yankala for a complimentary claim review.
Mingo & Yankala has recovered millions for clients across Wisconsin. We are recommended by past clients and respected by our peers in the legal community.
Let one of our award-winning lawyers answer your questions and walk you through the delivery truck accident claims process by reaching out today.