Child Car Safety Laws in Wisconsin
Properly securing children in age-appropriate child safety seats saves lives. In 2020 alone, the Centers for Disease Control and Prevention (CDC) found that 607 children under age twelve lost their lives in car crashes and more than 63,000 were injured. Of the children who died, 38% were unsecured in their vehicles.
Wisconsin has firm laws regarding child car safety and was a leader in implementing child booster seat laws in the United States. Children in states with child booster seat laws, like Wisconsin, are 20% less likely to die in motor vehicle crashes than their peers in unregulated states.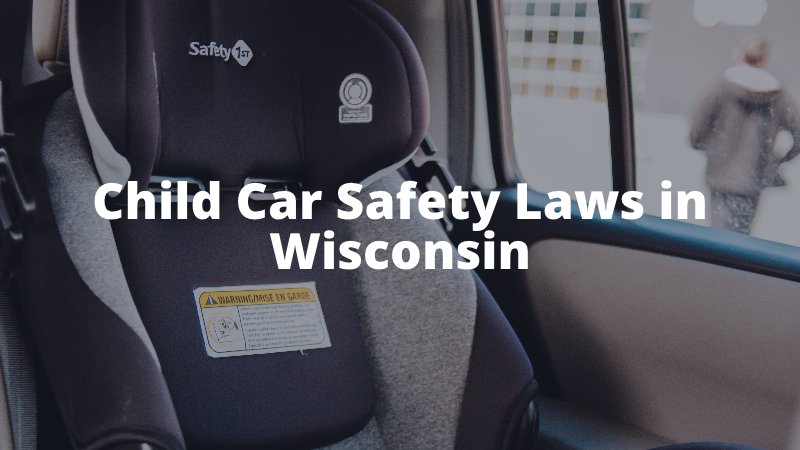 Wisconsin's Four-Step Progression for Child Car Safety
Wisconsin has a four-step progression to effectively secure children when traveling in a motor vehicle. Children move through this progression with age and growth.
The Rear-Facing Child Safety Seat
Children start in a rear-facing child safety seat. This safety seat is placed in the back seat of the vehicle (when equipped) and is required for children:
Less than one year old; or

Less than twenty pounds.
The Forward-Facing Child Safety Seat
Forward-facing child safety seats also go in the back seat of the vehicle (when equipped). These safety seats are necessary for children:
Between one and four; or

Between twenty and forty pounds.
The Booster Seat
The booster seat is for children:
Between four and eight; or

Between forty and eighty pounds; or

Less than fifty-seven inches tall. 
The Safety Belt
Safety belts are required once children reach:
Eight years or older; or

Eighty or more pounds; or

More than fifty-seven inches in height.
Child Car Safety Seat Exemptions
Children whose body size, physical condition, or medical condition makes safety restraints unreasonable are exempt from the booster seat and safety belt laws. There is no personal needs exemption for attending to a child while a vehicle is in motion.
Effectively Using a Child Car Safety Seat
When child car safety seats are misused or used incorrectly, they are not as effective at preventing child injuries and death. A shocking study in 2011 estimated that 46% of car seats and booster seats are used incorrectly.
The mistakes most commonly cited in the study were:
Incorrect recline angle for rear-facing car seats;

Loose installation for all car seats;

Loose harness for all car seats;

Harness behind child's arms, legs, or back in forward-facing car seats;

Improper lap belt position for booster seats; and

Improper shoulder belt position for booster seats.
Ensuring children are in an appropriate car safety seat for their size and age can greatly reduce the risk of serious injury and death. Wisconsin offers appointments to check car seat safety by emailing safekids@uwhealth.org or texting 608-333-6087.
Contact an Experienced Milwaukee Car Accident Attorney Today
Regardless of car safety precautions, children can suffer serious injuries if involved in a car accident. If your child was hurt in a Milwaukee car accident, contact the car accident team at Mingo & Yankala to immediately begin the insurance claims process.
The sooner you start your child's accident claim, the faster you can get the compensation needed to secure specialty injury care and ongoing treatment. This includes treatment for mental and emotional trauma caused by the accident experience.
At Mingo & Yankala, our car accident team will meet with you at no cost to explain your legal options. Contact our Milwaukee office to schedule your consultation today.